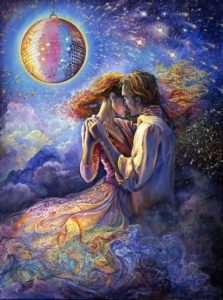 The vibrations of heaven are dancing and playing in the gentle breeze of my mind, as the harmonic tunes reveal this world of living poetry. Let us paint love songs on the canvas of the sky. Let us write words that merge into a divine harmony that sings from the depth of wonder. My heart has come undone, I am open, touching, inhaling the sweet fragrance blowing upon the soft winds that whisper in melodic sounds, the silky, quiet tones of love. Life, this holy presence of my being, comes closer, I am willing, giving into this fragrant warm breath that unbuttons my heart and blows me into bliss.
You came slipping, easing slowly into my heart, like smooth pink ice cream melting in the warmth of a summer day. You awakened these forgotten delights, the wispy dreams of heaven, dreams written thousands of years ago, unwrapped here, now, as gifts from eternity.
I remember how I held tight to you, riding on your speeding motorcycle. We traveled close and easy, wandering through the red desert, through the thundering storm and found our way to a little cafe along the road.
Wet and happy, we go inside. Opening the door, we feel the powerful warmth between the gust of cold air and the sparkling fire heating the room. In this magical alchemy, the beauty rushes in and lights the glowing embers of my heart, combusting a thousand joyful sparks into an eternal flame of love.
The large stone fireplace with logs burning bright captivated us, watching the flickering golden light casting boldly dancing shadows on the walls.  We drink warm brandy. We sigh, we laugh. Your smile shines within my eyes. My love soothes you in the reflections of your own beauty dazzling my soul.
In a few hours the storm passes. Listening to the tacit interlude of this divine love song, the silence pulls us outside. In the clear, infinite wonder of desert's depth of dark that holds us, we are fearless. We look up, our senses immersed in the illumined black sky filled with twinkling diamond-blue glimmers of shimmering stars telling the story of our own timeless mystery. You take my hand, leading the way, we head out into the infinity that shines its light from heaven to earth and back.