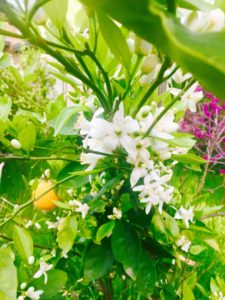 In my garden on this frosty late December morning, I have no destiny, no aim. I let go of it all, in the realization that this world of mine is not external to myself. I let the sweet fragrance of orange blossoms take me into my own boundless soul.
I am always fascinated that I have fresh oranges in the winter, right here in my own yard. I suppose it is to remind me that time is applicable to tangibility only. Oranges, and all else, are the sequential unfolding of Infinity. This world that seems to be 'out there' is the appearing of my own illimitable, infinite, sweet bliss of the Divine. Me, here, I am this wonderful world I see. The world I see is the world I be. Besides, I am delighted by orange trees that speak to me.
We are like a field of wildflowers, each blooming in our own time. We let it be. We don't force the bud to bloom. This is the Way of Love's living Infinity. And Love does not care what we know or don't know, do or don't do. Love will remain primary, being all that we are, all that is. This makes me smile.
We experience the world as time and matter, the unfolding qualities and attributes of God-Reality, of Love. We are Life being individually known, each separate and distinct from the others. Though we cannot be apart nor separate from the world we are. Trusting this Infinity of our Self, knowing there is nothing outside of ourself, we let it all be. Both the good and bad of it. Clatter and silence delineate one another. Smoothness and roughness the same. To know, and know we know, the delineators are essential. All the way down, showing us who we are, and who we are not. It all comes clear. This is the Way of Love. We let it be, let it be.
I am fortified by this blooming garden of fearless freedom within me. Vitality and delight are set loose romping this unfenced meadow I found. I've fallen in love with the Presence of my own Living Infinity. Galvanized, aroused by the exquisite perfection and beauty of it all. I am here in this moment, here and now, touching the sanctity of Reality. Life reveals Itself and fills me with joy. This, this is my unbound soul, all the memories of the past and all dreams of the future – and the morning song of little birds in my garden – I am exhilarated by the unending wealth of it all.