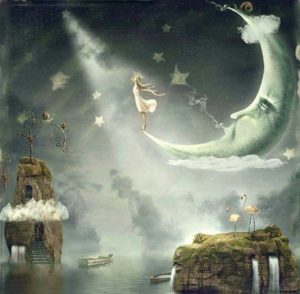 This holy scintillation is livestreaming the cosmic wonders at 4 a.m. I'm sailing my starship through the canyons of God's infinite mind.
This mercurial song keeps waking me up in the middle of the night. Mercury shines bright with its energy boosting rays reverberating riddles and words bouncing around my bloodstream and dazzling my soul. I'm imbued with the bubbling sparks of revelation in a river of blue electric dreams.
Riding through the ancient lands, I take out my trusty binoculars. I peer into distant eons of love.  I focus, I adjust the sights, revisioning, as perception must be clear. Twisting the wheel between lenses, the two become one, bringing the view into the elevated clarity of my heart that reveals a love that is vast, its infinite beauty is timeless, unbound, disorderly, delightful. I am dancing in the playground of my heart.
Jupiter smiles on me, the jovial gambler rolls the dice, as I pass by. His bounty overflows good fortune and I take my chances. I wave to him, mischievously, while running rings around Saturn who watches over me. He makes sure that I don't fall off the edge, as I spin to the whirling ecstasy, while swinging from moon drops of silvery silkened threads dressing me in euphoric bliss.
We wonder and wander in this untamed, starry love. The cosmic dust blowing fluorescent glimmers into air, as we move along this unfamiliar road. Taking the keys to my heart from my pocket, I hand them to him. "Here, you can drive," I say. He revs the engine, pulls me close as we go along on a sea of bubbling golden laughter. I am taken into an entire world of champagne giggles when I see the heavenly glint that longs for every sweet morsel of me. I don't mind, I am enchanted by the playful melody that sings to me.
We pull up to one lone place out here, along this celestial route. The sign, Mars Bar & Lodge, glows in hot red. My sheer, delicate dress, dappled with pink starlight and silver moon glow, is softly blown by the warm, caressing winds, lightened by breezy freedom, loosened by love.
Neon lights glare chartreuse and shocking blue against the exquisite black of infinity. We can hear the rock band playing Tunnel of Love. Good song. We stop a moment before we go inside – to kiss, to smile – as we bathe in the penetrating beauty that fills us with the omniscient, omnipresent beauty of this holy and divine adventure of kismet, magic and mystery.
As long as forever and always — I love you –