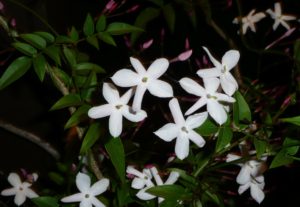 Outside my bedroom window the heavenly air filled with the precious scent of ambrosial jasmine and orange blossoms has awakened me from my sleep.
The window is open, and the sweet fragrance is moving through the cool and gentle night. The beauty of the silence in the dark is touching me, immersing me in its nectarous sweetness wafting with exotic pleasure.
The moonlight bathes the garden in its silvery glow. I am beguiled, intoxicated by the lingering sweet breath of these blossoms.
The benediction of the perfume floating on the midnight sky of shadowy dark tender beauty is lulling me softly back to sleep, to dream of you.