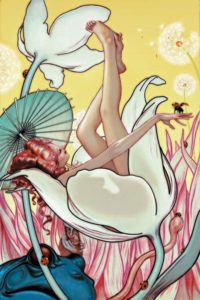 It rained all night, soft, gentle rain. This morning, I walked outside, and and the blooming apple trees glistened under the silver sky. They were painting my yard with tender pink blossoms, covered in wet, sweet air.  I felt the drops of rain on my eyelashes. Looking up into the misty wonder, my lips tasting the fragrance of jasmine and orange blossoms caught in the gleaming beauty falling down, falling from heaven's light.
The sparkling light shines the glory of an authentic color never seen before as it gleams and disappears in this ever changing wonder of life.
Touched by this magic of a world that always was, that always will be. There is no logic and the intellect is stunned as it falls off the cliff into perplexity. How can it be?  The deluge of sensation pours over me.
My sweet enchantment. How I do adore this bliss of not knowing. I come to the edge and ride down the swirling spin through the deepest pool of holy waters. I am being swallowed by this most charming mystery. Enwrapped in the garden, taken into arms of love. I let myself wander into the wonderland of eternity.
How marvelous this life is. I find magic in every moment. Nothing so sweet as the very living bounty of my own joy. I am taken into the arms of love, right here, in the garden, in the rain, in the flower's gentle laughter and moist silence of the morning.
Such love, sweet sailor, my love, such love.