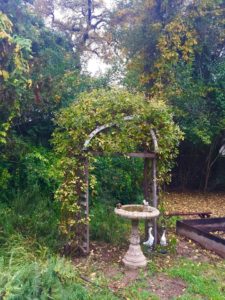 It rained last night. I love the rain. Something about the sound of rain, its divine melody, like music, seems to soothe, to fill me with this gentle peace and touches me with love.
Sounds, feelings, the smell of the cool, wet, night air when it rains. The air filled with moisture and the fragrance of the earth soaked and imbued with the waters. This touch of rain on my face. Letting my heart run free, I am the giggles of splashing feet, I am the delight of a child, uninhibited – little yellow boots dancing in the puddles. Sweet joy of my soul. 
I listen to the rain. I am alive with life. I listen to the waves washing on shore, the soft sounds of love, laughter and beauty. I listen to the birds singing their happy tunes from the green trees, in the morning mist – I hear divine love songs.
Yes, and I hear it, feel it, knowing it all with all my senses, alive, in love – with my heart wide open to this wonderful world.
There is Something Grand here. I feel an inner substance that lives quite beyond this world of matter, it is steady, astute and true. It is my astrolabe, my compass, showing me the way.  It is the very heart of me. It includes every sweet morsel of life, of love, of it all, of all that I am. Life is love and it includes the ongoing presence of all that is. Nothing is outside of ourself.
The fluctuating experiences delineate the ever present changeless Love that is living and being me, being all that is. It is real. It is true. It is here.  Here, in the world, here, even in the midst of change and commotion, here is where I touch and know that unfluctuating tranquility and equanimity. This ever present wonder and marvel and beauty of being might be challenged but it is never deceived. In infinite terms, we include it all -spirit and matter, change and changelessness, organized and random, objective and subjective, personal and impersonal. But, it is all one knowing, one self-knowing, one love, one experience, one eternity of my being. Life being all that I am. This is what I am, this is what is, this is who I am, this is the living art of being, and it is the way of Love. I know this, because I live it and it lives me, proving itself every moment of everyday, in every way, life and I, we are one unfolding infinite journey of love.