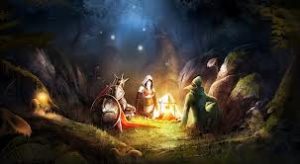 The divine fire blazes and warms my being. I can feel its heat, sense its glowing light even on those days when the low-lying dampness of fog rolls in. Those foggy days when the quiet, serene, misty silence shrouds the hours.  Such mystery envelopes us in the wet, glistening, grey clouds. Give it a little time, give it until noon and then look again. The fog lifts and the sun breaks through. The heat and warmth and light, beaming it's radiance that burns through to touch me with your smile again.
The sweet light of laughter and the Child's fresh new spirit is not concerned about the fog.  The sunshine always breaks through. It is inevitable.  Here, this ocean of love opens to the whole, wide, wondrous expanse of myself. It's all revealed in this sweet light of freedom and it's magic.
This life speaks to me in metaphor. It's telling me the story of the infinite beauty, the fullness of my own identity. I know now, I am the wild, rambling, open fields of infinite love. It's all here. Here in this meadow where the wildflowers drip with sweet nectar and the cool rain gently kisses my lips.
I hear the joyful laughter, and I breathe in the clear sweetness of life. I let  this love lift me higher, take me into the magic. I am the unbound heart of freedom.  I see the entire masterpiece, the colors woven into this tapestry of passion with silver threads. I know it is all right here within this spacious heart of mine.  As I see it, I know that I've always been the living fullness of heaven and earth. Oh, the wonders that happen, here, right here and I do nothing to make it so. The fog lifts, the dawn breaks, the clock chimes, the days move along in perfect harmony, precision, innocent, carefree and untamable as the wholeness and holiness of this very life I am.
Now, I see. Now I  get to enjoy this world and the richness, the unending beauty of it. Yes, God is love. I am filled with love. Taken by this magic of an entrancing fire at the beach on a summer night. To feel the crackling heat, watching the embers spark and rise, flying away, disappearing into the night.  I see the dazzling light of the dancing red flames shining in your eyes.  Blissfully lulled in the beauty of the voices, laughter, and the rhythmic sound of the waves crashing on the shore. Near in the darkness, feeling the surge of life singing, singing the love song of the sea. Breath of love, playful, inviting love, delighted by the frolicking flames. Yes, it is this, always this, from here to forever – and all that is in between.
Sandy Jones – Reading – Silver Threads