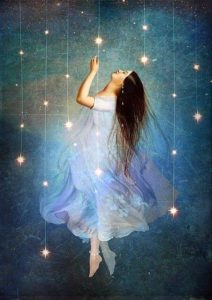 I have an indomitable buoyancy of spirit. I cannot be held down. I don't know why, but it's true. I rise up again. It just happens. It is the very nature of me. How joyous this is.
Perhaps it is because I am filled with these effervescent bubbles of an enduring and unrelenting love, I suppose. Something lifts me up. I am bouncing in love. Bubbling up. Love keeps me afloat on this wild sea of life, this holy beauty that never ceases to amaze me.
I am swinging on the sweetness of it's glory, the beauty of its wholeness, its perfection. The sun and the moon, the calm and storms, all of it. It's entirety is vast.  I watch the ebb and flow, the tides of mystery, this eternal moving ocean of light that never leaves me. I don't get caught in the tides, but I do like to feel this sea of love, feel the moving waters wash through my soul. I love the beauty and motion of it all.  I trust myself to know how to stay steady as the waves rush to pull me down. Oh, and sometimes they do topple me. But the pleasure is mine. Like a little girl, barefoot at the sea shore, playing the water, tossed by waves, I laugh, I love, I feel the wonder of it all. I can do no less. I am in love. I let it be and enjoy the mighty glory of this infinite holy sea of the very self of me.   
All the while I hold on to the light of love.  I open this heart of mine   – and the light  comes flowing through. I am lifted by this light.
There is the fearless wide open place in me. It allows for this receptive heart of mine to be filled with love. Here, in this way – the love flows in – I float free. Here, what ever it will be, I'm filled with enthusiastic expectancy, resting in the deep, abiding peace, what will be will be – Love is here as living light and life of me. 
I live here in childlike expectancy – and there it is, it all shows up. The gifts come to me. The tangible evidence of love comes. It shows up in all kinds of sweet ways. Every time. Sometimes sooner and sometimes later, but always, the gifts come. Living here in this delighted state of sweet anticipation keeps me alive to the magic and the beauty of life. There is no doubt that love is the answer – no doubt that love is the way.
Sandy Jones  reading – Buoyancy