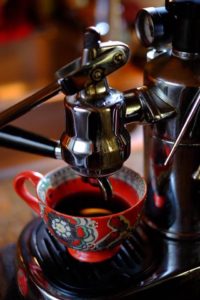 Making my morning espresso, the door open to the back yard garden, the cool breeze touching me – I hear Elton John in my mind, piano and all, he is singing Tiny Dancer –
But oh how it feels so real
Lying here with no one near
Only you and you can hear me
When I say softly, slowly
Hold me closer, tiny dancer–And I am feeling your love. Such a wonderful song. Oh my sweet life, I breathe your beauty. It's all fated without decisions, taken by this wild windy spirit of Love. I have no choice. No one knows where it goes. No one can control this ride through wonderland. I trust this Love that shines here in my eyes, sparkling in all that I see. Love is the Life I am – and of course you know I love you. We are the carefree Child of God in celebration of this limitless Light which has no beginning and Lives forever new, fresh, alive. My spirit moves with the forward feeling of excitement just to be here, to be here, feeling this vibrant creative energy and this divine serenity of Love. I need no more than this, this is plenty for me. It is so irresistible, easy, tender and real. I've experienced it – It has become all that I am – so I know it's true.