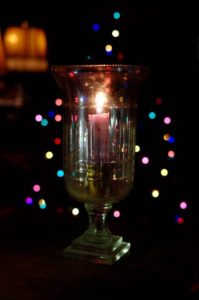 I found a string of sparkly lights for the tree, all tangled up, twisted together. I leaped in with the joy of childlike magic. I had a puzzle to unwind.
How fun it is when we untangle the string, untie the knots, get it all straightened out. And then to plug it in. Ah sweet, they still work. Magic is this, right here, untangled lights all lit up and shinning bright.
It was a busy day here. This quiet night is soothing. I'm watching the little twinkle lights on the Christmas tree glow. This is magic. This is real, this is love, right here, this wholeness in the riches of the ever present Light of myself.
Here, in the dark, the old clock chimes midnight. It's all shining, glittering with love. The starry sparkles delight my eyes. I wander this path, the string of tiny lights, winding their way to the top of the tree, up to the star above. All the lights twinkling on the little trail leading the way home.
Like the star of Bethlehem showing me the way back to this divine Light within myself. The light is always here, within me. Outside, in the cold air of winter, the deep dark of the night sky makes the stars shine ever so bright.
In the wintery solitude, I am safe here, inside my warm home, by the fire. Tempered, such a wonderful word that is. My heart has been tempered, softened by Love. I have become giving, easy and supple, yielding to love's flame that burns bright within me. Oh how I love this blazing flame of an ancient and eternal Light beyond ten thousand years – still here. It's magic.
This penetrating depth of love, tenderly embracing me as I watch the fire's golden reflections dancing around the room. The candle's glow heralds a song of sweet joy, singing in my soul. This love, this wonder, this peace and beauty – this is it – it is the Living Light, the Magic Essentia of all things.