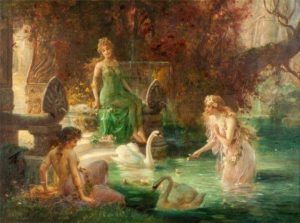 The bountiful Source of sublime beauty pours through this world. And I am here living this wonderland adventure that is full of sweet surprises. I am filled by the divine magic of life. It streams from an infinite wellspring, moving with the power of love. This Source is not just for some, but for everyone. This stream of living Presence is here as life itself, as all that is, being the very self of you and me. Here, we know, touch, live, feel the extraordinary unbound ways of an Ineffable Isness being all that is. 
We open our arms and Something holy floats us in a gentle rush, an comforting repose, steady, easy, moving us softly in it's wondrous beauty.  This divine Presence of Being is being all that we are. No one is outside of this Living Identity.  It is our very life, our freedom and peace. This deep love that is with us, it is unchanged by the external appearances, the events, good or bad, up or down – the fluctuations of this and that. This love is full and rich with beauty. This world flows from an eternal fountain of pristine waters, clear and bubbling up and out. It moves all things, it is our world, experienced and lived by you and me, here and now, this moment, always.  This is the essence of love, sacred, playful, delightful, unending love. This love moves through the very heart of us, the everlasting soul of you and me. Here always – here whether we notice this divine changeless presence of such sublime magic – or not.  
I've realized that the world out there is our own reflection. As I flow in and with these deep waters of my radiant soul, this infinite love that life is, it flows and lifts me higher – and I see heaven in your eyes as you are lifted with me.
A magical fairyland of twinkling light and effervescent joy of exquisite beauty has been opened in my heart.  Letting this beauty take me in close, moving in a slow dance, swaying to the living music of life's sacred love song.
This love holds me true and real. It proves itself, lifting my world, touching everyone I love with its exquisite, sensual, divine beauty.
I won't close this door of my heart, not ever, it is the way to heaven right here on earth. Like magic, this majestic beauty lives and moves all that is. I hear the sound of the entire universe, I feel this love song reverberating in and as all that I am, all that you are, and all that is.