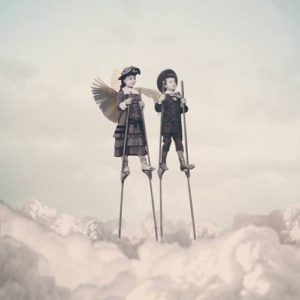 During the final steps of my search for inner peace and understanding, I discovered it was essential that I found the Child. By "final," I do not mean that the journey came to an end. No, the final step was out of the "old world view" and into the "new view. " The new view arrived when I found the Child. The Child took me into the Meadow, a real and heavenly garden, right here in the midst of this world. This new way of living is bountiful and magical, rich, sensual, amusing, fresh and alive.
The Child is the soul, the unconditioned heart of myself. It is the Light within everyman. It is available and here for each and all of us to reclaim. We make our own self-discovery.  This Child is like a twin self of ourself – a free and fearless self that transcends the world. The 'third part of myself" lives and sees from an all inclusive view. It leads me through the labyrinth of this world.
My journey continues and it grows in ongoing wonder and marvelous new vistas. Now, I feel a sense of my own wholeness, a tender peace, alive and vibrant in this marvelous alchemy of a sweet and divine trilogy – Self to self and the Light of all being.
This childlike place, innocent, guileless, adorable, willing – It is within my heart and  connected to the living joy of a divine Intelligence, the intuitive and perceptive mind. I know what to do here in the world and how to do it. I have no questions. I understand things through my heart, sweet and easy.
This Child of me cannot be intimidated or controlled by the appearances of this world. She knows the powerlessness of this tangible world. She has a real freedom that comes from the unbound ever-present Light. This is the Light of our being. It is our heritage. It existed always.  It is without end.  All we need do is recognize It's presence, take hold of It's presence, be brave, leap in and live it.

"The secret of genius is to carry the spirit of the child into old age, which means never losing your enthusiasm."  –  Aldous Huxley
"Walk with her tonight. Look at the stars as you did those years ago. Be still and patient. Something will stir within. You will feel Something deep within yourself. The greater than sensual marvel stirring within is the Christ Child of yourself telling you that you coming alive again and coming home again." –  William Samuel 
"The child is alive with this fire, and we, the adults, smother it as best we can. When we cease throwing the wood of ignorance on the fire, it bursts forth again. Experience is an unlearning, an undoing. We must start from the beginning, not on the backs of dinosaurs – culture, that is, in all it's guises." – Henry Miller (from the Durrell-Miller letters 1935-80)
My love, always –